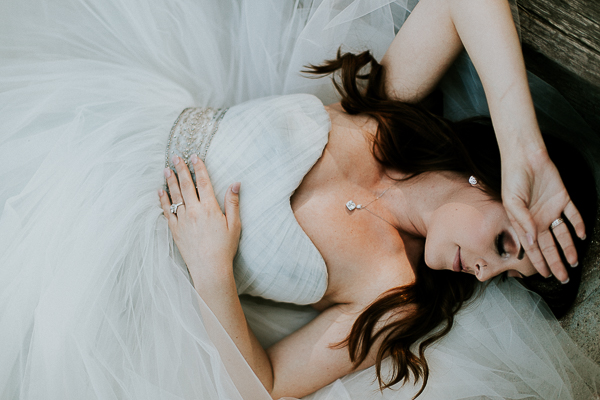 A Modern Twist to an Irish Tradition Elopement
Ireland is a mystic isle of sprawling green hills and centuries of age old customs and traditions as unique as the landscape and people that spawned it. With our couple sharing Irish roots and with Sp...
A
I
Ireland is a mystic isle of sprawling green hills and centuries of age old customs and traditions as unique as the landscape and people that spawned it. With our couple sharing Irish roots and with Spring in the air, we wanted to capture much of the beautiful past that has permeated time and stayed with us to the present day, while providing a unique take on Irish wedding traditions by giving it some modern twists.
In honor or Ireland's rolling, verdant topography and the symbolism and colors of spring, we chose the lush settings of Rancho Las Lomas, a secluded ranch in the inland hills of Southern California, which offers an unlikely taste of the woods with the benefits of the occasional sea breeze.
We wanted to bring out all the spring colors for this year and I thought, what better way then bringing back some old traditions to it as well. This is where the Irish theme came in and we ran with it. We started with a stunning powder blue wedding gown made by Jim Helm by Hayley Paige from Marryme Bridal. A blue wedding gown in Ireland symbolized purity in ancient time before white became the universal symbol of virginity.
Another Irish tradition is of course the color green. We brought in lighter color greens like the eucalyptus plant and Bells of Ireland to give it that soft beautiful green. Hues of blue were brought in to put that modern twist to it and bring out that spring color as well.
A romantic soft tradition for the bride in Ireland is for her hair to be braided for her wedding. Braided hair is an ancient symbol of feminine power and luck. So our hairdresser Jen styled the bride and her two bridesmaids to have beautiful soft braids in their hair. The bride wore more of a waterfall braid that went around her crown with the rest of her hair styled down. The two bridesmaids had their hair softly braided to the side which I like to call the "Elsa braid" from frozen.
During the ceremony the hands of the bride and groom were literally tied together with a soft colored thin rope to form a knot. This symbolizes the joining of husband and wife. This is the origin of the phrase "tying the knot" and why we still say that to this day.
After the bride and groom were pronounced husband and wife, we moved onto the cocktail hour. We all know how Ireland is known for their beer and whiskey so we had plenty of Guinness and Jameson for the guests. We made a "Pear Irish Mule" for our signature cocktail drink. Ingredients below:
Pear Irish Mule
3 ounces Irish Whiskey (Jameson)
1 1/2 ounces ginger simple syrup
juice of 1 lime, freshly squeezed
1 tablespoon pear puree
splash of club soda or ginger beer for bubbles
stir all of the ingredients together in a copper mug. Top with a lot of ice and garnish with pear, mint and lime.
Our cocktail hour sign said "Slainte!" (slansh-a); Irish Gaelic for "To your health!"
The cocktail hour began with this beautiful Irish blessing:
"May your mornings bring joy and your evenings bring peace.
May your troubles grow few as your blessings increase.
May the saddest day of your future
Be no worse than the happiest day of your past.
May your hands be forever clasped in friendship
And your hearts joined forever in love.
Your lives are very special,
God has touched you in many ways.
May his blessings rest upon you
And fill all your coming days."
Walking over to the reception, passing a breathtaking white tiger on the venue grounds we walked into a beautiful space with green everywhere. Green grass, green cactus, green trees, all different shades of green which just complimented all of our greenery on our long family styled table by Party Pieces by Perry. Malorie from Collected with Love dressed the long family styled table with Eucalyptus, Bells of Ireland, Blue Thistle, white Dahlia, and white Roses. The tableware by Cherished Rentals filled the table with lots of silver and blue to add just enough pop to bring your eyes back to the green. It all complimented each other perfectly, and went with our color scheme. We had bells hanging in the tree's nearby. The chime of bells is thought to keep evil spirits away, and restore harmony if a couple is fighting, it also reminds a couple of their wedding vows. Giving a bell as a gift has become a huge Irish tradition.
Nearby we had a outside living room set up so guests could sit and relax and enjoy their time together. The three tier cake was directly across from them. This unique cake was the perfect mix of tradition with a twist of modern. A traditional Irish cake would be a fruit cake made with honey and soaked in Irish whisky, then frosted with sweet white glaze. Well Melissa from Love Cakes made the middle tier a naked cake to give that modern feel, and so you could see the delicious fruit filled inside, while the top tier and bottom tier were the traditional frosted white. The inspiration behind the cake actually came to me in a dream and I thought "how has this never been done before?" so we decided to give it a try and Melissa from Love Cakes made my dream into a reality and the cake turned out perfect!
I love that this Elopement shoot we were able to keep such beautiful traditions alive but bringing a little bit of a modern day twist to them. Everything I imagined for this shoot was brought to life in a way I couldn't have ever dreamed of. I love when my vision is brought to life and that is exactly what happened for this shoot.